Organizational Chart
Home

About Us
Organizational Chart
The grievance settlement body, headed by the Foreign Investment Ombudsman within KOTRA,
supports grievance resolution in close cooperation with the Investment Consulting Center.
Organizational configuration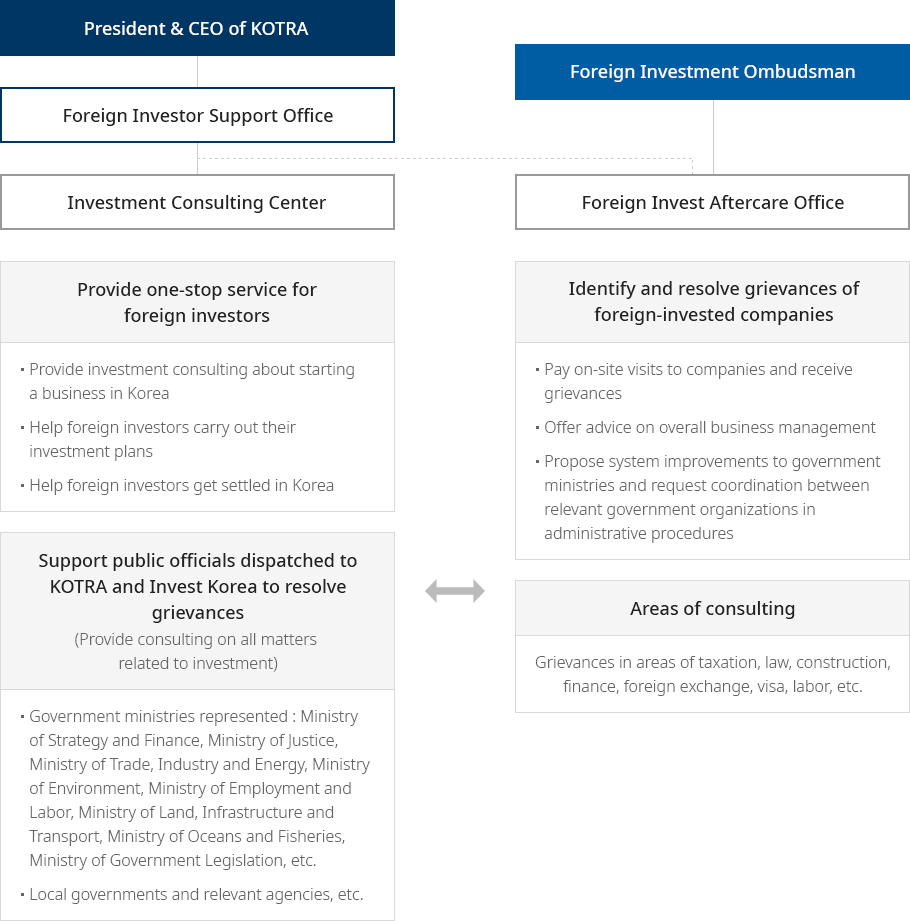 Large view of images
President & CEO of KOTRA
Foreign investor Support Office

Foreign Invest Aftercare Office

Identify and resolve grievances of foreign-invested companies

Pay on-site visits to companies and receive grievances
Offer advice on overall business management
Propose system improvements to government ministries and request coordination between relevant government organizations in administrative procedures

Areas of consulting

Grievances in areas of taxation, law, construction, finance, foreign exchange, visa, labor, etc

Investment Consulting Center

Provide one-stop service for foreign investors

Provide investment consulting about starting a business in Korea
Help foreign investors carry out their investment plans
Help foreign investors get settled in Korea

Support public officials dispatched to KOTRA and Invest Korea to resolve grievances (Provide consulting on all matters related to investment)

Govement ministries represented : Ministry of Strategy and Finance, Ministry of Justice, Ministry of Trade, Industry and Energy, Ministry of Environment, Ministry of Employment and Labor, Ministry of Land, Infrastructure and Transport, Ministry of Oceans and Fisheries, Ministry of Government Legislation, etc.
Local governments and relevant agencies, etc.
Foreign Investment Ombudsman
Foreign Invest Aftercare Office

Identify and resolve grievances of foreign-invested companies

Pay on-site visits to companies and receive grievances
Offer advice on overall business management
Propose system improvements to government ministries and request coordination between relevant government organizations in administrative procedures

Areas of consulting

Grievances in areas of taxation, law, construction, finance, foreign exchange, visa, labor, etc